On January 31, 2019 H.E. Mr. Andrei Popkov, Ambassador Extraordinary and Plenipotentiary of the Republic of Belarus to the Republic of Korea participated in the Ceremony of 53rd Anniversary of the Korea Institute of Science and Technology (KIST).
Mr. Lee Byung Kwon, President of KIST presented Global Partnership Award to H.E. Mr. Andrei Popkov for his contribution to cooperation between KIST and the Belarusian side.
This Award is annually presented to one foreign diplomat / international partner who has most greatly contributed to science and technology cooperation with KIST.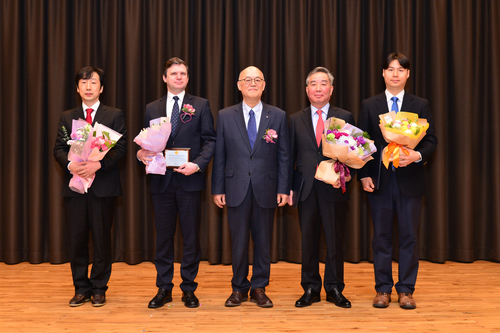 During his visit to the research institute Mr. Andrei Popkov discussed the prospects of further development of interactions with KIST and invited its personnel to take part in the bilateral events in science and technology sphere to be held in Minsk and Seoul in 2019.
Ambassador of Belarus also met several Belarusian young researchers participating in KIST programs starting 2018.